Hey!! For any of you members, the dance party is a blast!! (I am not a member, but some great people took some pictures for me!) ***Update - we have gotten reports not all memebers can see it, try checking back tomarrow!
-Free Boombox- When you come in to the first floor, click the box of boomboxes in the bottom left corner to get one! It is a "wear"/hold item, and when you wear it and dance you breakdance!!! Check out this first floor picture, where the boombox box is circled and labeled.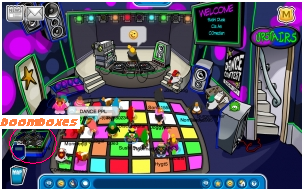 -Dance Game- Play the new Dance Dance Revolution style game on the second floor! You use the arrow keys to hit the up, down, and side buttons according to what goes across the screen. Also you can play solo or multi-player!! Cool!! I hope they will keep it for after the party!! (And yes, we do now have a new how to in the games section!)
-Rooftop- The rooftop, which is available exclusively for the party, is decked out in a cool style! You must go see it while it is still here!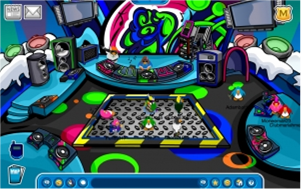 -Candace- Go and see if you can find the legendary DJ Candace! If you do, she will award you with a cool background (just like rockhopper)!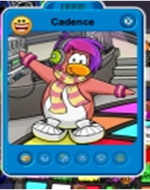 -Remember that the everyone fiesta party is next week!! Get ready for some fun!!
Waddle On, my parting penguins!
The Penguin Queen