There is a new Play out!!! It is team red vs. blue, and they have some cool stuff out, like an awesome Migrator mascot and Zeus The Moose! Watch the video for the cool catalogue:
Also now your puffles will use your furniture. As a side note i noticed they also have new little emotes like my purple puffle stuck his tougnge out at me randomly, and they look different when they have the hungry emote. Check out my video of them doing cool stuff!!
Thank you Holly, Fabioina, , Michael, and Fredward my puffles! Do you have a puffle? Leave us a comment!
There is also a new pin that is puff-ic for the puffle party coming up! Thats right! A PUFFLE O'S PIN!! Its in the mine underground!! Go get it now!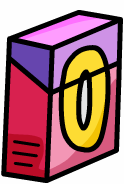 Well, I hope you can't wait for all of the NEW puffle stuff coming out!!! Waddle On!!
The Penguin Queen!