The Puffle Party is here, and let me tell you- it is AWESOME! The whole town is decorated into puffle furniture as buildings and puffles and everywhere! There is even a WHITE puffle Sighting!
Free item: There is a free black bandana for the black puffles at the Cove! This is unfortunatley not a new item, but it is from a very very long time ago - a few years! I was a lucky one who had it already.
Penguin Painting: You can get a marvelous self portrait done by an artist yellow puffle! You don't get to keep it but it looks so cool! Just go to the Lighthouse and stand where it says stand here...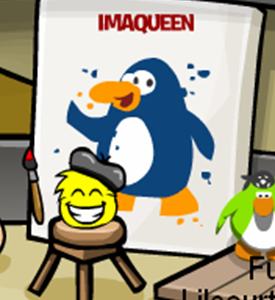 Puffle Feeding: A cute little feeding thing that is off of the snow forts! You use snowballs which end up becoming the puffle o's and you try to launch them into the puffles mouth! You don't earn any coins, but its cute! This does seem alot like a game from the fall fair!
Rockhopper: Go to the Beacon, and you will be able to see Rockhopper in the distance coming in! He is probabally going to arrive on the 27th.
WHITE PUFFLE: Every half hour or so, you can see a mysterious WHITE puffle!! It has appeared in many places, especially the dojo. Do you think it is real? Or is it just a puffle stuck in a snowdrift that looks white?
**Update I took a picture! Unfortunatley it decided to come when i was asking when it was coming!! It is looking at me like it is mocking me!!
Waddle On!!
Here is a movie of the news!
Also here is the movie for the New Better Igloos Catalogue:
The Cheats:
Click on the pinata on page 6, for the aquarium.
Click on the snow on page 8, for the green birdhouse.
Click on the velvet rope on page 9, for the welcome mat.