There is a puffle safari like video out! It even has a narrator with that safari voice (come-on, you know it!) Check it out at the link below!
http://community.clubpenguin.com/blog/2009/02/puffle-video.php
Also, my accomplice Mr. Kebob got a good picture of the white puffle! Remember it comes every half hour!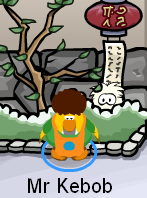 Waddle On and Enjoy the Party!
The Penguin Queen
Don't Forget to check out the Blog!