The white puffle may no longer be poking it's little head up at the dojo or ski hill, but now there are signs that the pet shop may be stocking up! The White puffle has been spotted in the Puffle Round Up Game!! Go and help the store by playing and rounding up as many white puffles as you can spot- they will probabally be sold out otherwise! Save up 800 coins by rounding them up so you can get one!

Don't Worry - a new white puffle emoticon is on the way!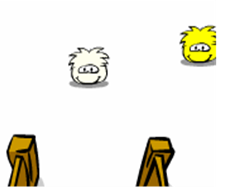 Also there is a new Newspaper out!! Here are some of the top stories from it:
-Rockhopper- Confirming he will be here TOMOROW!!!
-Ice Sculptures- You can submit a drawing for an ice sculpture, and you may be one of the lucky 15 who win!!
-Stage- On March 20 there is a special event at the stage!! I wonder what it is!
-St. Patrick's day- There is the St.P's day celebration on the 13th to the 17th!
Well, that's all for now! Waddle On!